Nuclear Security Summit & Workshop 2018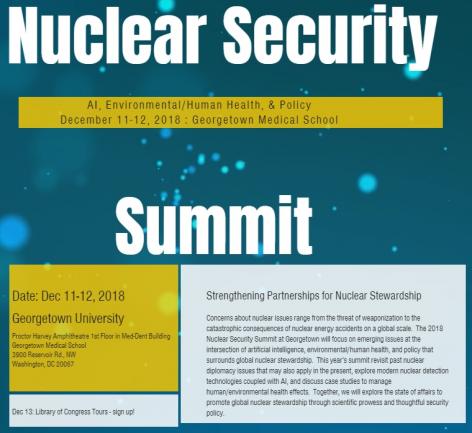 Topic: Concerns about nuclear issues range from the threat of weaponization to the catastrophic consequences of nuclear energy accidents on a global scale. The 2018 Nuclear Security Summit at Georgetown will focus on emerging issues at the intersection of artificial intelligence, environmental/human health, and policy that surrounds global nuclear stewardship. This year's summit revisit past nuclear diplomacy issues that may also apply in the present, explore modern nuclear detection technologies coupled with AI, and discuss case studies to manage human/environmental health effects. Together, we will explore the state of affairs to promote global nuclear stewardship through scientific prowess and thoughtful security policy. For more information on this summit, please look here.
When: Tuesday and Wednesday, December 11th through 12th, 2018
Where: Georgetown University ​
Proctor Harvey Amphitheatre 1st Floor in Med-Dent Building Georgetown Medical School
3800 Reservoir Rd., NW
Washington, DC 20057
Look here for more information on location and directions.
Registration: University students with current ID can register here for FREE.
If you have any further questions, please feel free to contact NSGU2018@gmail.com.