Joanne Michelle Fernandez Ocampo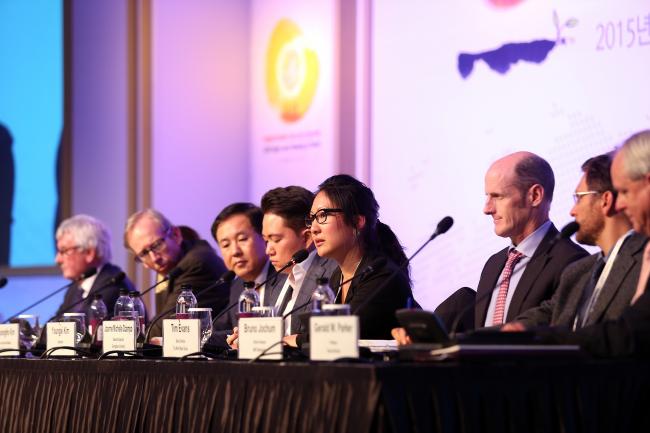 First name: Joanne Michelle Fernandez
Last name: Ocampo
Graduated from GUMC: Class of 2012, MS Biohazardous Threat Agents and Emerging Infectious Diseases
Purpose: The photo above is from a panel discussion at the 2015 Global Health Security Agenda Forum in Seoul, Republic of Korea. That same year, I also presented at the International Conference on Zoonotic Disease Prevention and Control in Ha Noi, Viet Nam on the role of the next generation (students, working professionals, or in general individuals working towards the next generation of ideas) in dealing with continuous global health challenges presented to us by infectious diseases.
How I got involved: I got involved with the Global Health Security Agenda Consortium through my graduate studies, professors and mentors, and professional working experience at Georgetown University. I led the mobilization efforts of the Next Generation Network as the inaugural coordinator from 2015 to 2016.
Where are you right now?: I currently work for Georgetown University's Department of Medicine, Division of Infectious Diseases as a Project Director for Public Health Informatics, and am also an Advisor for the Norwegian Institute of Public Health, Department of Zoonotic, Food and Waterborne Infections. Since completing my MS degree, I've obtained a professional certificate in Business Administration from Georgetown University School of Continuing Studies. On the professional front, I've also been doing research, teaching, and gaining invaluable public/global health experience in Europe, the US, and West Africa.
In 2017, I was also fortunate to be recognized as one the 100 Most Influential Filipina Woman in the World (Global FWN100™) by the San Francisco-based Filipina Women's Network.
A solid education along with sound technical experience, matched with effective leadership and a compassionate heart are all good things that can help facilitate a fruitful career in this field.