Professor Emeritus: R. Pad Padmanabhan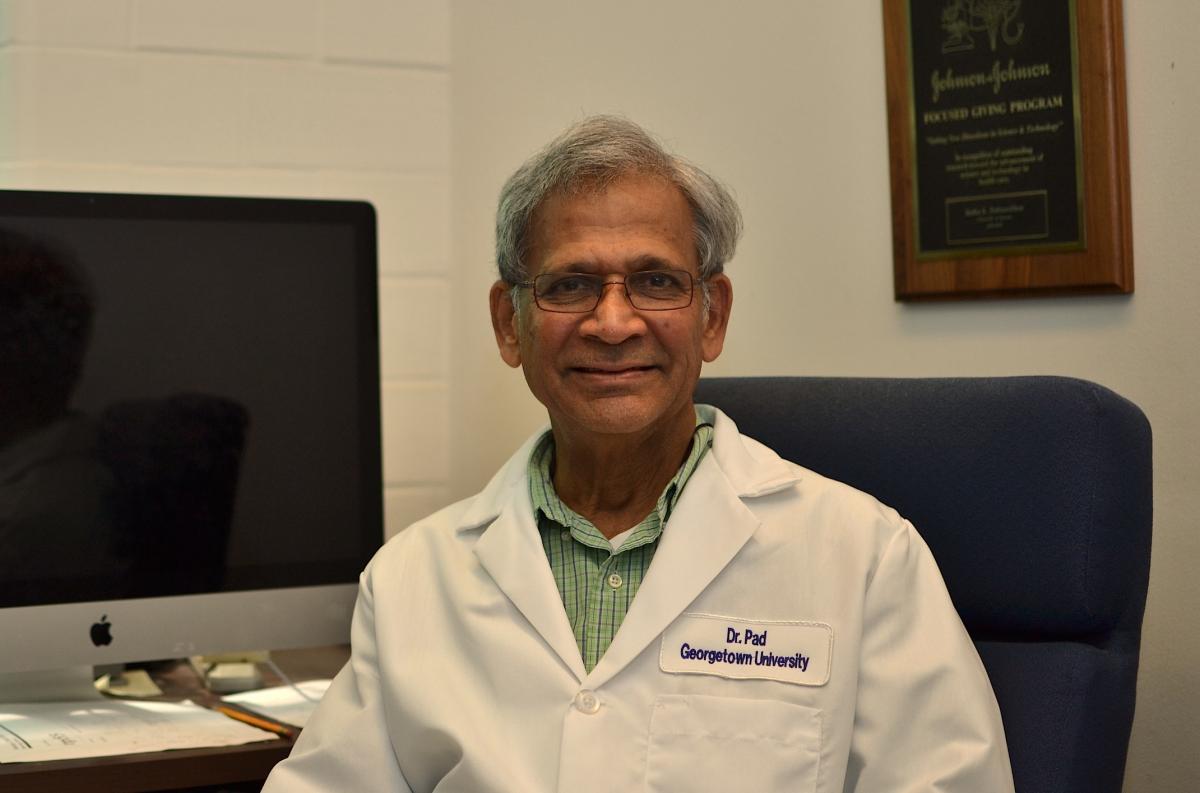 Dr. Padmanabhan is Professor Emeritus of Microbiology & Immunology
Summary
Ph.D. Wayne State University, Detroit, MI., 1968
Postdoctoral Research: Cornell University 1969-1973
At Georgetown Since: 2002
Contact: (202) 687-2092; rp55@georgetown.edu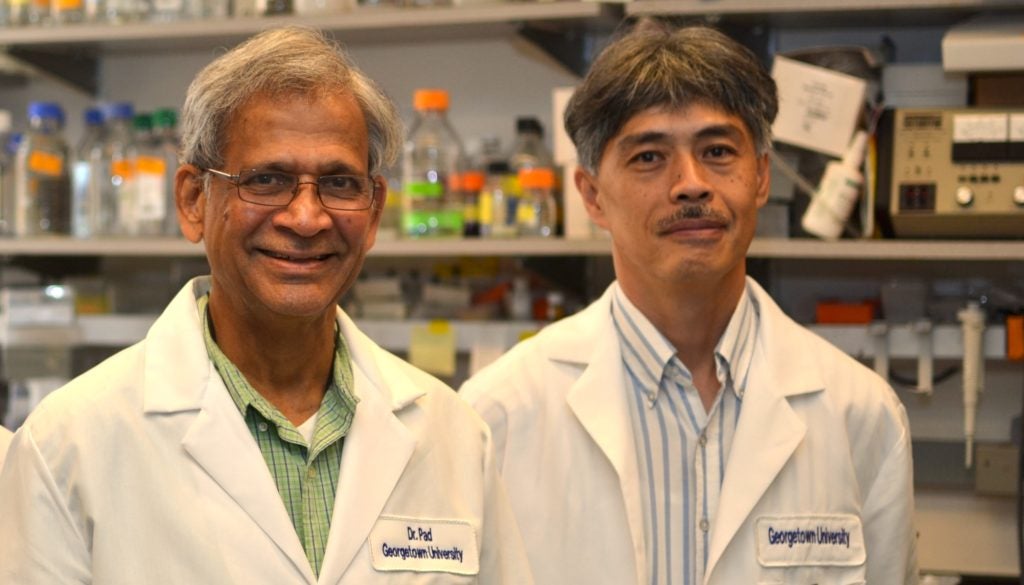 Current Research Interests
Dengue viruses (DENV1-4), members of Flavivirus genus of Flaviviridae family, are transmitted by mosquito vectors, Aedes aegypti and Aedes albopictus causing ~390 million infections annually worldwide with thousands of fatalities. DENV is the causative agent of a simple self-limiting disease known as Dengue Fever, and Severe Dengue, a life-threatening disease associated with severe plasma leakage, severe bleeding, shock syndrome, CNS involvement, and/or organ failure. Over 40% of the world population is at risk for DENV infections and currently there is no effective vaccine or antiviral drug available. WNV, first identified in the West Nile district of Uganda, is transmitted by Culex species of mosquitoes and was previously unknown in the U.S. until 1999 epidemic in New York City. ZIKV, first isolated in Zika forest of Uganda in 1947 from an infected rhesus monkey (MR-766 strain) and from febrile children in Nigeria in 1968, is transmitted by Aedes species of mosquitoes, and was not known to cause any serious illness in humans. However, recently, ZIKV infections are rapidly spreading in South America, and symptoms of microcephaly and other serious birth defects in children born to infected women, are causing grave concern among international health organizations such as WHO and PAHO.
My laboratory has been studying the basic mechanisms of dengue virus RNA translation and replication and 5'-capping using membrane-bound complexes isolated from infected cells. Using proteomics approach, we are working on identification of viral and host proteins in the purified membrane-bound replication complexes that are active in the in vitro replication assay. The viral proteins, NS3 and NS5, have multiple enzyme activities and exist as a complex in flavivirus- infected cells. The N-terminal domain of NS3 has a serine protease catalytic triad, and in the presence of NS2B cofactor, it is an active protease required for polyprotein processing. The C-terminal domain of NS3 has an RNA-stimulated ATPase and RNA helicase activities that are required for viral RNA replication. In addition, this domain has also 5'-RNA triphosphatase required in capping of viral RNA. NS5 has the 5'-RNA methyltransferase in the N-terminal domain and the RNA-dependent RNA polymerase in the C-terminal domain. By inter-serotypic exchange of the N- or C-terminal terminal domains of NS5 between DENV2 and DENV4 in the context of infectious clone of DENV2, we showed that replication of the chimeric RNA was severely affected. Chimeric viruses with enhanced replication fitness emerged with adaptive mutations in the NS5 or NS3 by repeated passages of chimeric RNA-transfected BHK-21 cells. If the entire NS5 of DENV2 was substituted with that of DENV4, replication fitness was not significantly affected. These experiments showed that the inter-domain interaction between the N- and C-terminal regions of NS5 is important for DENV and perhaps for flavivirus replication. In addition, we are interested in analysis of cis-acting RNA elements in viral RNA translation and replication. We are also focusing on translational research, development of antiviral therapeutics against viral protease as well as other viral and/or host proteins as the targets with emphasis on repurposing known FDA-approved drugs to control DENV, WNV and ZIKV infections.
Recent Publications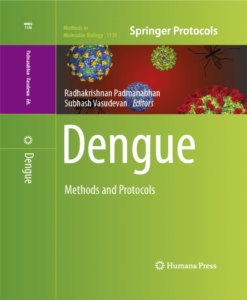 Teramoto T, Boonyasuppayakorn S, Handley M, Choi KH, Padmanabhan R. Substitution of NS5 N-terminal domain of dengue virus type 2 RNA with the type 4 domain caused impaired replication and emergence of adaptive mutants with enhanced fitness. J. Biol. Chem. 289 (32) 22385-22400, 2014. PMID: 24904061 PMCID: PMC4139246.

Valerie J. Klema1, Mengyi Ye1, Aditya Hindupur1, Tadahisa Teramoto2, Keerthi Gottipati1, Radhakrishnan Padmanabhan2 and Kyung H. Choi1, * Dengue virus nonstructural protein 5 (NS5) assembles into a dimer with a unique methyltransferase and polymerase interface". PLoS Pathogens, 2016; 12(2):e1005451. PMID: 26895240 PMCID: PMC4760774.
Padmanabhan R, Takhampunya R, Teramoto T, Choi KH. Flavivirus RNA synthesis in vitro. Methods (San Diego, Calif.). 2015; 91:20-34. NIHMSID: NIHMS719765 PubMed [journal]PMID: 26272247 PMCID: PMC4712636
Boonyasuppayakorn S, Reichert ED, Manzano M, Nagarajan K, Padmanabhan R. Amodiaquine, an antimalarial drug, inhibits dengue virus type 2 replication and infectivity. Antiviral research. 2014; 106:125-34. NIHMSID: NIHMS580864 PubMed [journal]PMID: 24680954 PMCID: PMC4523242
Teramoto T, Chiang HS, Takhampunya R, Manzano M, Padmanabhan R, et al. Gamma interferon-inducible lysosomal thioreductase (GILT) ablation renders mouse fibroblasts sensitive to dengue virus replication. Virology. 2013; 441(2):146-51.
Sztuba-Solinska J, Teramoto T, Rausch JW, Shapiro BA, Padmanabhan R, et al. Structural complexity of Dengue virus untranslated regions: cis-acting RNA motifs and pseudoknot interactions modulating functionality of the viral genome. Nucleic acids research. 2013; 41(9):5075-89. PubMed [journal]PMID: 23531545 PMCID: PMC3643606
There is a complete list of publications in Pubmed.