Faculty: Richard Calderone

Richard Calderone, PhD, is Chair of the Department of Microbiology and Immunology and Director of the MS Degree Program in Biomedical Science Policy & Advocacy at The Georgetown University Medical Center. He is an internationally recognized leader in research on the human pathogen Candida albicans, the pathogenesis of invasive candidiasis, and the identification of antifungal drug targets. The research of his lab team is focused primarily on understanding gene functions related to pathogenesis, including signal transduction proteins related to cell wall synthesis, and mitochondrial energetics. Other lab research focuses upon the identification of fungal-specific antifungal drug targets. Two proteins that fulfill this requirement are mitochondrial electron transport complex I (ETC1) subunits. Their fungal gene- specificity is associated with fungal-specific functions, such as cell wall mannan polysaccharide synthesis, virulence, and immunological activity.
Summary
Ph.D., West Virginia University, 1970
At Georgetown Since: 1974
Current lab has capacity for both new Ph.D. students and Post Doctoral Fellows
Contact: (202) 687-1513; calderor@georgetown.edu
Details
The research of Dr. Richard Calderone's lab team is focused primarily on understanding gene functions related to pathogenesis, including signal transduction, cell wall synthesis, and mitochondrial energetics. For each of these three areas of study, bioinformatics is initially used to select fungal-specific, candidate genes, then mutants in these genes are constructed using reverse genetics to identify gene function. The genes of mutants whose absence causes loss of critical cell processes including infectivity in model systems are selected for further study. We then integrate candidate genes into cell circuitry by identifying signal transduction and transcriptional events associated with their regulation. As an example of this approach, the lab group has chosen fungal- specific, mitochondrial electron transport complex I proteins that fulfill the functional criteria mentioned above of contributing to important cell processes including pathogenesis. Lab data have demonstrated that complex I subunit proteins are critical to growth, immune recognition, chronological aging, and infectivity. Their integration into cell circuits is underway. Dr. Calderone has over 140 publications in peer reviewed journals, has been an editor or co-editor of 7 textbooks, and written numerous reviews on the subject of fungal diseases of humans. Of his textbooks, there are two editions of "Candida and Candidiasis" (ASM Press) as well as two editions of "Methods in Candida Molecular Biology" (Taylor & Francis). He has served on numerous journal editorial boards, including, Infection and Immunity, FEMS Yeast Research, Future Microbiology, and Microbiology and an 8-year term on the NIH-NIAID Bacteriology and Mycology Scientific Panel. He has served as the Division F Chair (Medical Mycology) in the American Society for Microbiology and President of The Medical Mycology Society of the Americas. He is also a member of the Advisory Committee at The University of the District of Columbia for both the MARC U* STAR Honors Program (NIH/NIGMS) and the STEM Center for Research and Development Program (NSF/HBCU-UP).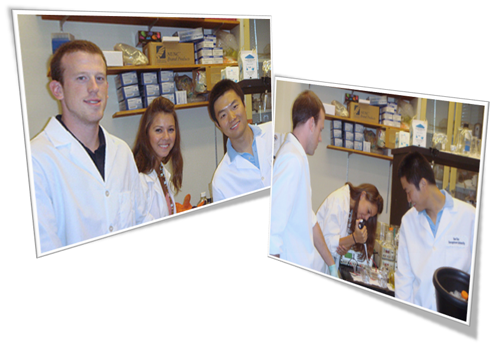 Publications
Li D, She X, Calderone R. 2020. The antifungal pipeline: the need is established, are there new compounds. FEMS Yeast Research. (In press)
Sun, N, Parrish R, Calderone R. & Fonzi ,W. 2019. Unique, diverged and conserved mitochondrial functions influencing C. albicans respiration.
Zhang, P.,H. Li, J. Chen, A. Sun, G. Mircevska, R. Calderone and Li, D. 2018. Respiratory stress in mitochondrial electron transport chain complex mutants of Candida albicans activates Snf1 kinase response. Fungal Genet Biol, doi: 10.1016/j.fgb.2017.11.002. Epub 2017 Nov 13.
MBio Jun 25;10(3). pii: e00300-19. doi: 10.1128/mBio.00300-19.
Moghissi A, Calderone R., McBride D, Geleta A, Novak A., et al. 2017. Innovation in regulatory science: translational regulatory science based upon the lessons learned from clinical translationa science. J Translational Sci doi:10.15761/JTS.1000199
She, X., Calderone R, Li, D. 2017. A mitochondrial proteomics view of Complex I deficiency in Candida albicans. Mitochondrion. Doi:10.10.16/j.mito.2017.08.003.
Sun N, Li D, Zhang Y, Killeen K, Groutas W, Calderone, R. 2017. Repurposing an inhibitor of ribosomal biogenesis with broad anti-fungal activity. Sci Rep. 5;7(1):17014. doi: 10.1038/s41598-017-17147-x.
She X, Calderone R, Kruppa M, Lowman D, Williams D, Zhang L, Gao Y, Khamooshi K, Liu W, Li D. PLoS One. 2017. Cell Wall N-Linked Mannoprotein Biosynthesis Requires Goa1p, a Putative Regulator of Mitochondrial Complex I in Candida albicans. PLoS One. doi: 10.1371/journal.pone.0147175.
Sha Lu, et al. 2017. Dynamic time warping assessment of high resolution melt curves provides a robust metric for fungal identification. PLoS One, DOI:10:1371/journalprone 01733202016.
Tong et al. 2017. Beauvericin counteracted multi-drug resistant Candida albicans by blocking ABC transporters. Synth Syst Biotechnol. 2016 Oct 25;1(3):158-168. doi: 10.1016/
Chen K, Calderone R. 2016. Adult cancer stem cells: Perspectives on autophagic fate determinations and molecular intervention, chapter 6, in Yang, J. (editor), Targeting autophagy in cancer therapy. DOI 10.1007/978-3-319-42740-6, Springer International.
Li D, Calderone R. 2016. Virulence. 18:1-10. [Epub ahead of print] PMID:27191707
Li D, Calderone R. 2016. Assessing Mitochondrial Functions in Candida albicans. . Methods Mol Biol. 1356:59-67. doi: 10.1007/978-1-4939-3052-4_5.PMID:26519065
Li D, She X, Calderone R. 2016. Functional diversity of complex I subunits in Candida albicans mitochondria. Curr Genet. 62(1):87-95. doi:10.1007/s00294-015-0518-6. Epub 2015 Sep 15.
Calderone, R., and Cihlar, R. (Eds.). Candida Species: Methods in Molecular Biology, Candida species. 2016. Editors: Springer Press. www.springer.com/us/…/97815882976, a chapter in this text was contributed by Dr. Li.
Gay-Andrieu F, Alex D, Calderone R., Li D. 2016, .Genetic Screens for Determination of Mechanism of Action. Methods Mol Biol:1356:165-72. doi: 10.1007/978-1-4939-3052-4_12. PMID:26519072