Alexei Medvedev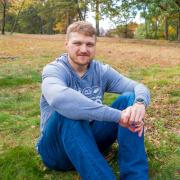 "I recently graduated from Georgetown University's Microbiology and Immunology program with a Ph.D. in Microbiology in Fall 2016. The focus of my dissertation was replication of the Norovirus genome. Currently, I am an ORAU Postdoctoral Fellow at the FDA, researching a livable HIV vaccine.
It is hard to imagine that I could have done my thesis work anywhere else, but Georgetown Microbiology and Immunology department. The faculty and students are superb, in my opinion. The department is so closely knit, that I was able to meet every professor, every administrator, and every student that passed through the Med-Dent 3rd floor over the course of my time here. My thesis committee advised me well and pushed me forward when I needed it, acknowledging my progress when I would do something worthy of recognition. My mentor, Dr. Brent Korba, was not only an excellent teacher, but also a great fatherly figure, caring and understanding, someone that I could go to with any of my problems. Together, my thesis committee and my mentor, Dr. Korba, helped me create high standards for my scientific work and were instrumental in making sure that I do not fall short of expectations. As a testament to our combined efforts, my first-author paper, written while at Georgetown, was recently chosen to be one of the highlighted manuscripts in the March 2017 edition of the Virology journal.
While the faculty is undoubtedly top-notch, the diverse student body of the Microbiology and Immunology department is outstanding. I was able to meet students from all over the world and from all walks of life while at Georgetown. Several of them I am still in touch with and glad to call friends. There are also many possibilities to enjoy yourself whenever you have some downtime from your studies. I often took advantage of numerous bike paths, paved and off-road, all within close proximity of Georgetown. If you are a big fan of the great outdoors, the possibilities for exploration are endless – from Billy Goat Trail in the Great Falls Park to Old Rag Mountain in the Shenandoah National Park, just to name a few favorite local destinations. And there is Washington D.C., of course, a beautiful city that has plenty to offer, whether you like food, fun activities, or pretty much anything you can think of.
If you are a Georgetown alumnus, you would likely backup my story. If you are considering joining the Microbiology and Immunology department – do it! You will love it here!"